ABOUT JEET KUNE DO FEDERATION OF INDIA

The JEET KUNE DO FEDERATION OF INDIA was born with the idea of taking original Jeet Kune Do to the average man or woman who did not have the ability to pay large sums of money for exclusive instruction, or were in a remote area away from any certified teachers.The JEET KUNE DO FEDERATION OF INDIA is focused on original techniques as taught by Bruce Lee, and we bring this teaching to our members.
JEET KUNE DO FEDERATION OF INDIA is affiliated to the WORLD JEET KUNE DO FEDERATION (U.S.A.). JFI is the sister association of World Jeet Kune Do Federation(U.S.A.). JEET KUNE DO FEDERATION OF INDIA has its branches located in various states of India.Nearly 30,000 students in India and abroad have been trained under the flagship of JFI. We have certified Instructors who know how to teach JKD and know how to make you advance in ranking and knowledge in the fastest time possible.When you see the Jeet Kune Do Federation of India Certificate you know that you are getting the best Bruce Lee system training available.We do not engage in politics of any kind and will not associate with those who do. If it weren't for the politics and egos that have surrounded JKD it would be the most popular martial art in the world, instead of a closely guarded secret only available to a hand picked few. We aim to change all that.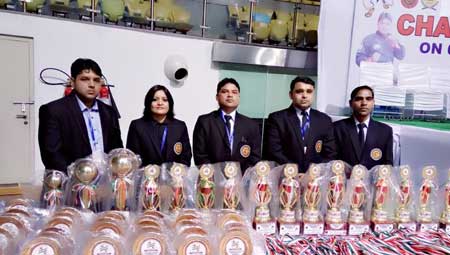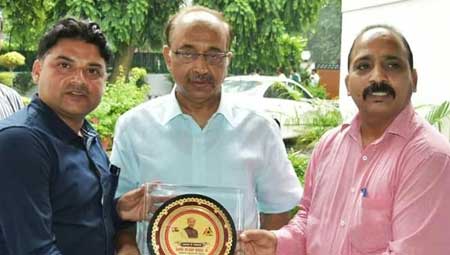 GM Vivek Kaushik & Rajender Singh , Award of Honor
- Sh. Vijay Goyal (Spotrs Minister)

It is time for you to step up and take the reins of the most effective fighting system founded by the number one martial artist of all time. It is our goal that you find our teaching and information a valuable part of your journey in the Martial Arts, and that knowing us has made a difference in your life, and at last you have found a place where you belong. Let us help you cut through the confusion and find the real art.
Federation Achievement

Successfully Organised 18 National Championship
and 21State Level Seminars and Belt Awards.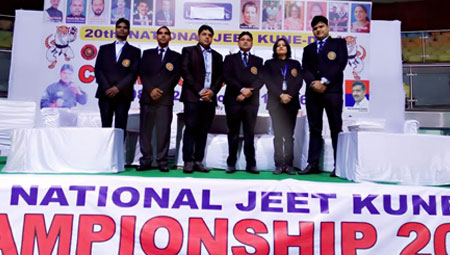 GM Vivek Kaushik with official Team